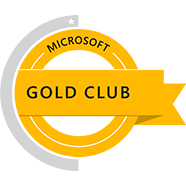 I am beyond grateful for receiving a Gold Club Circle of Excellence 2020 Award for my work and achievements of the past fiscal year.
The distinguished Gold Club Award recognizes the extraordinary performance of individuals who transform and contribute to the overall success and growth of Microsoft. Recipients demonstrated significant impact to business results through growth mindset, transformational deals as One Microsoft, Customer & Partner obsession, making a difference to change the world and acting in the spirit of One Microsoft.
Thank you Carolin Petzold for the nomination and the empowerment in the past year, this means a lot to me!
Thanks to all who supported me, without you, this would not be possible.
I love my job, I love working with all of you, and I'm looking forward to more in the next year - thanks #Microsoft!