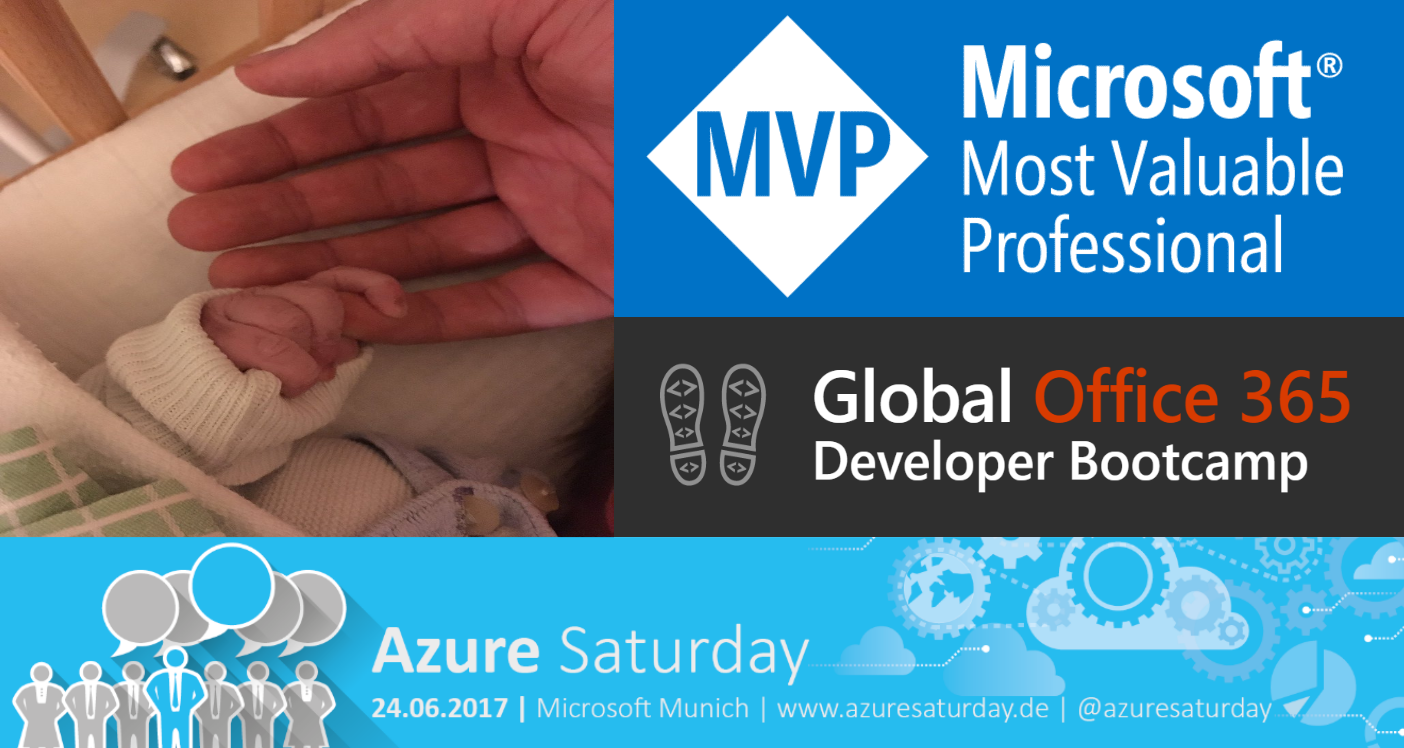 2017 was a very special year. And a super busy one. And exciting - well, almost all adjectives would fit for that CRAZY year! It was full of work, community stuff - and family time…!!!!
My first MVP Award
1st of March 2017 was a very very surprising day for me: I was in the office, it was around 17:00 and I was working on something very focused. Then I noted a new mail in my inbox:
The mail of all mails! At first, I thought my friend Ben Abt sent me a fake mail to make fun of me - but once I checked the links in the mail and had to sign an NDA - I almost fell off my chair! Now, I am very proud to be an MVP and I hope that my passion and energy is enough to be an MVP for the years to come. There are so many great MVPs in this 'family' that I can look up to and learn - good stuff!
If you want to be MVP yourself, I can recommend you this article
Events
Reflecting the entire year is almost impossible. But I track a lot in my outlook calendar so let's start with the events that I attended - compared to the last years that weren't that many. Most notably, I attended the very excelent SharePoint Saturday in Munich (my review) and 2017 was the first time I organized a large event myself. Maybe I should track the online events this year, I attended countless online events, too.
Azure Saturday
It was 23rd of December 2016. Something crazy must have been in the drinking water because I skyped with Ben Abt, Tom Janetscheck, Patrick Heyde, Jan Schenk and Dennis Gassen (follow those guys on Twitter, they are awesome!) and suggested to have an event focussed on Azure similar to the awesome SharePoint Saturday events - thats how Azure Saturday was born. That idea was so much fun, that I spent over a month preparing and organizing everything to host an event for more than 250 people…
and there is even a youtube recording of Donovan Brown's very awesome keynote:
This was so awesome and will be repeated. I might regret it the weeks before, but once the event is running - its super fun.
Family
March 2017 was really rewarding to me - first I got the MVP award as mentioned above - and on 6th of March my beautiful, always smiling first daughter was born. Sophia Linda makes me super super happy - and she is best thing that happened to me. Ever.
Today I became a dad of a wonderful little angel name Sophia Linda - so so happy!!! pic.twitter.com/xSZxeEORUu

— Max Melcher (@maxmelcher) March 6, 2017
Global Office 365 Developer Bootcamp
As you might have seen in this post I organized 3 bootcamps in Germany - they were all different, different speakers, different crowds - but all were fun. If there is a similar global event in 2018 - I will arrange at least one in Munich. This year we focused on Microsoft Teams and Azure Bots - great stuff, I learned a lot while having fun.
Shift of technology
In the past I was heavily focused on SharePoint (server) and SharePoint Search - in 2017 things changed a lot in Germany and for me as consultant. Maybe it's because of GDPR, the German Cloud or simply zeitgeist - people are switching to the cloud and I help them on their journey. So to my focus broadened a bit to Office 365, Azure (especially Azure Germany) and Microsoft Teams. Fun and interesting times for me!
This blog
Recently I switch to Hugo (see this post) - and so far I really like it. It's fast and lightweight - and writing posts is fun again. For 2018 my goal is to write more than just 1 post per month - maybe I even start smaller posts with things I learned today. In 2017 I created only 11 posts, but reached 100.000 page views per year - phew…
My top posts are "old" but still attract many:
Future
For 2018 I will try to speak and blog more - technology-wise there is enough coming to keep me busy and excited (looking at you, SharePoint 2019, Azure and Microsoft Teams!), thats for sure. 2018, go challenge us! Unfortunately I have to pass my very first MVP Summit in March next year - its the very first birthday of my little one and I wont miss it. But there will be a next time (hopefully).
With that said, I wish you all the best for 2018, health, prosperity, lots of excitement and fun - see you around!